HJ Hall will be launching its latest range of outdoor socks at this year's Glee Trade Show. For the third year running, HJ Hall will be exhibiting its newest products at the UK's greatest garden and outdoor living trade exhibition, held virtually this year from 15-16th September.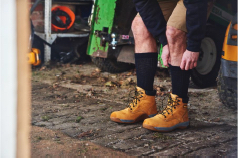 The brand will be virtually showcasing an exclusive range of its latest and most popular outdoor socks, all suitable for the everyday outdoorsman and beyond. HJ Hall's signature Softop range will be accompanied by the brand's latest Workwear collection, as well as a plethora of outdoor socks and a selection of gift ideas. With this year's shift to a virtual exhibition, HJ Hall will be allocated a time slot in which to showcase the brand, including two pre-recorded videos about HJ Hall – a brand introduction and a video selling the sock ranges.
Workwear 
Launching in time for the crisp Autumn weather, the Workwear collection is created to withstand heavy use, designed with the outdoor worker in mind. With durability provided through the reinforced toe and heel, these socks are perfect for arduous work without the fear of wearing through the material. Keeping your feet comfortable, dry and protected, these socks are also the essential accessory for gardening activities, taking the physical strain off of your feet when working on your allotment or rose garden.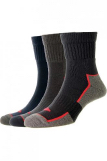 These designs, available in both long and short styles, suit a variety of outdoor activities, keeping your feet warm and comfortable in every circumstance.
Fashioned from ultra-strong cotton yarn with a soft grip comfort top to prevent tightness around the ankles, as well as fully cushioned feet to counteract possible impacts and abrasions, these socks are the ultimate purchase for toiling feet.
Softop® 
Viewers will have the opportunity to virtually explore HJ Hall's newest Softop range – five new seasonal colourways and two new patterned styles adding to the brand's extensive collection of Softop classics.
Praised for their comfort and ventilation, HJ Hall's Softop socks are also endorsed by the Institute of Chiropodists and Podiatrists (IOCP) for quality and dependability thanks to the breathable design and non-restrictive panels, making them ideal for diabetics and those with sensitive feet. A wardrobe essential suitable all year round, the sock's ergonomic design keep your feet snug yet refreshed due to its ventilated foot panel that prevents irritation in hot weather.
The latest designs include the Wool Softop, Stripe Wool Softop and the Houndstooth Wool Softop.
Outdoor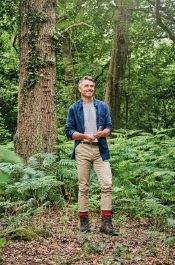 The brand's outdoor collection ranges from a casual strolling Boot sock to the Commando sock, made with a wool rich yarn to provide long lasting comfort.
Each style is designed to keep your feet cushioned while offering a naturally breathable wear, these keeping your feet snug all day long. Wear with longer boots for ultimate comfort and warmth or with ankle boots on warmer days. The Wellington Boot sock provides complete insulation thanks to its extra-long design and soft cushioning through the foot and leg, as well as an anti-splash finish and soft-touch fabric which protect the foot and leg from getting damp and cold.
Motif 
The Motif socks make for the perfect gift, whether it be a quirky birthday present or a fun stocking filler. Providing both comfort and warmth, the Motif socks are the ultimate statement socks to add a pop of colour to your sock drawer. Some styles in this collection are made from Viscose, a material derived from Bamboo, making the socks both supremely lightweight and comfortable.
For more details, visit www.hj.co.uk