Outdoor garden furniture, products and decorative garden structure specialist, Zest 4 Leisure has won the award for the best overall new product at Glee 2020 as well as winning three best in category prizes for growing containers, landscaping and leisure and entertaining.  Best New Product was the company's Three Tier Stackable Raised Bed – also category winner in Garden Growing Containers.  Its easy build Burghley Arbour won in Garden Leisure & Entertaining category and Zest's Cherry Blossom arch was a joint winner in the Garden Landscaping category.
Commenting on this amazing result, Simon Davidson, Head of Commercial Development at Zest 4 Leisure said, "We are absolutely thrilled! The competition was extremely high in these categories this year so to win in three categories and Best New Product is fantastic.  We would like to thank the judges for their comments and support.   Our team are looking forward to showcasing these winning products to our customers in the next few weeks."
Best in show product, Zest 4 Leisure's Three Tier Stackable Raised Bed is perfect for the grow your own enthusiast wanting the ultimate in convenience, easy build, and flexibility.  It is a set of three raised beds which can be laid out separately or stacked for deeper tiered planting as required in whichever format the gardener chooses, and there is virtually no set up work involved.  The individual beds are joined with galvanised metal hinges, so that the product simply unfolds, making it easy to set up or reconfigure as separate, stepped or pyramid-effect planting space.  Decorative and practical, the beds are ideal for vegetables or flowering plants.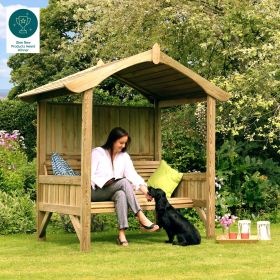 In the Garden Leisure & Entertaining category, Zest 4 Leisure's Burghley Arbour with its extra deep canopy had a rapturous reception from the judges, not only because it is stylish and provides additional shelter to extend the time spent in the garden, but also because it is so easy to build.  Zest 4 Leisure has been focusing on adding product convenience and its new easier build concept is all about making assembly simple. The company uses DFMA (Designed for Manufacture and Assembly) principles to create products with fewer components which are more easily put together.
Joint winner in the Garden landscaping category, Zest 4 Leisure's Cherry Blossom Arch is inspired by Japanese architecture and beautifully crafted to bring an oriental feel to the garden.  Functional and elegant, it is absolutely on trend.  Made from FSC certified timber, the arch incorporates a square trellis for climbing plants, making it both a feature and a delightful divider between different areas of the garden.
Steve Morgan, Managing Director at Zest 4 Leisure added, "I'm very proud of all the new products that the company launched at the Glee Gathering this year, but these are three of my favourites, as they are  focussed on style, comfort and convenience."
To find out more information and to view lifestyle videos of winning products, contact the Zest 4 Leisure sales team on sales@zest4leisure.co.uk or visit www.zest4leisure.co.uk.