With exhibitions off the agenda this year, garden trade suppliers are looking for alternative ways to showcase their latest product introductions ahead of the new gardening season. Not wanting its retail customers to miss out, Woodlodge, the UK's leading brand for pots, containers and garden décor, has confirmed that it will be launching new showroom tours in what is being dubbed as 'Glee @ Woodlodge'.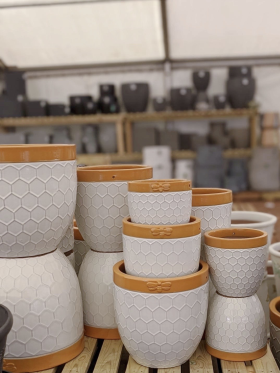 The company's Gloucestershire facility will become home to a new COVID-Secure showroom from 7th September until 16th October, where the full product portfolio will be on display. On show will be Woodlodge's extended indoor and outdoor pottery ranges, as well as water features, plant supports, fire pits and furniture. Exciting new additions to the full portfolio will also be exclusively unveiled, including the new Honey & Wild range which has joined the portfolio following Woodlodge's acquisition of Adobe Wholesale and The Garden Foundry.  Together these products will arm retailers with everything they need to capture the new gardening army that has come to the fore since the nationwide lockdown, as well as providing long-term customers with even more choice. To date, buyers representing over 250 garden centres have signed up to attend.
Access to Woodlodge's new showroom tours will be strictly be appointment only. Each tour will take approximately 2.5 hours and will also include insight into the company's growing warehouse operations. To ensure the safety of all visitors, Woodlodge will provide hand sanitisation facilities and PPE. For those retailers that are unable to visit the showroom, Woodlodge has also confirmed that a virtual 360° tour will also be made available. The full 2021 product catalogue will also be launched at this time, providing customers with an ongoing guide to what is on offer from this leading band.
Michael Wooldridge, Managing Director at Woodlodge, said: "The events of the last few months have meant that physical exhibitions such as Glee are, sadly, not a tangible option. Whilst we will miss such events we have to adapt and look to fill the void. Our showroom tours are designed to replicate our presence at such events, whilst providing our customers with a safe and secure place to view our new and existing ranges. We're excited to throw open our doors, and to meet with retailers once again. We've no doubt that our 2021 offering will appeal and help to drive sales in the coming season."
To book an appointment for 'Glee @ Woodlodge' retailers are invited to contact their local sales agent or email showroom@woodlodge.co.uk. To find out more about Woodlodge's market-leading product offering, visit www.woodlodge.co.uk