Squire's Garden Centres is pleased to announce it is partnering with Phyllis Tuckwell Hospice Care for its Open Gardens season 2019. This is an important fundraising event for the charity the company has said, which supports 250 patients, carers and their families every day in their own homes, at the Phyllis Tuckwell Hospice in Farnham, and at the Beacon Centre in Guildford. In 2019, Phyllis Tuckwell celebrates its 40th anniversary.
This is the second year for the Open Gardens scheme whereby owners of private gardens open them to the public or host their own private garden events as a fund-raising opportunity, with all proceeds going to Phyllis Tuckwell. In 2018 over 25 gardens took part in the scheme and they are now receiving applications from eager garden owners for 2019 via an online application form: https://www.pth.org.uk/open-gardens/
Gardens of all shapes and sizes – cottage gardens, rose gardens, community allotments, woodland and larger, formal gardens, even patios – are all welcome within the scheme, as Sarah Squire, chairman of Squire's Garden Centres explained: "We are so pleased to work in partnership with The Phyllis Tuckwell Hospice Care Open Gardens project. This is a lovely opportunity to share your enjoyment of your own garden with like- minded visitors. Alternatively, you may prefer to appreciate the beauty of other local gardens and pick up inspiration to take home. This is a perfect way to way to enjoy nature while raising funds for the charity. My late grandfather was a keen supporter of Phyllis Tuckwell and we are delighted to continue this family link. I hope that as many garden lovers as possible will open their own gardens or come and visit some of the stunning gardens in our area to raise money for this important local service."
Phyllis Tuckwell Hospice Care is the designated charity of the year, chosen by staff at Squire's in Frensham, and is supported by a number of fund-raising initiatives including this partnership.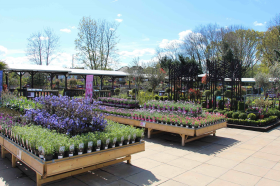 Community fundraising manager at Phyllis Tuckwell, Charlotte Quay-Barnham, added: "We are delighted to have Squire's as our partner for the 2019 Open Gardens. As the go-to garden centres for many in our local community we are very grateful for the support they are giving to our Open Gardens campaign and the fantastic fundraising the staff at their Frensham centre are doing this year. The partnership with Squire's enables Phyllis Tuckwell to raise as much as possible for Hospice Care across West Surrey and North East Hampshire; this is so important as we currently have to raise over £20,000 every single day to keep our care free of charge to our patients and families. For those who wish to visit the Open Gardens keep your eyes peeled for the Open Gardens brochure which will be arriving soon!"