Greenfingers Charity is inviting its supporters and others to put their pedal power to the test this spring by taking on the inspiring Cycle Challenge for Garden Re-Leaf Day.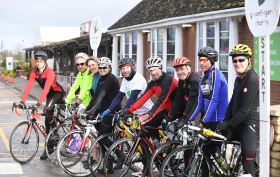 The cycle event, which was launched as part of the Garden Re-Leaf roster of events in 2018, is making its return in 2019, taking place on Friday March 22. The charity says the event is perfect for cycling enthusiasts, and those who want to push themselves to their physical and mental limits,  the cycle challenge offers a 25, 50, 75 mile and 100-mile routes.
In 2018 15 intrepid cyclists took on the challenge, with representatives from Taylors Bulbs, Mr Fothergill's, Hozelock, Briers, Poplars Garden Centre, Durston Garden Products, Kew Green Hotels and Elho all saddling up in the name of Greenfingers. Matt Jackson, of Mr Fothergill's was first across the finish line having completed the 100 miles route. Ian Clark from Taylor's Bulbs completed his 100 miles in an impressive seven hours, raising over £400, whilst Hozelock's Chris Ramsden cycled the full distance of 100 miles, the first time he has cycled that far.
Talking about the 2018 event, Chris Ramsden said: "I'd recommend the Garden Re-Leaf Cycle Challenge to anyone who wants to give something back and support a great cause. Achieving such a distance, and all in the name of charity, makes it such a meaningful experience. I was keen to find out if I could go the distance, literally, and I made it! Knowing that the effort would be worth it; that children's hospices would be benefitting from the work of the Greenfingers charity as a result of the money raised from not just my efforts, but all of those who took part in Garden Re-Leaf Day, made it all so worthwhile. So, what are you waiting for, sign up now!"
Linda Petrons, director of fundraising & communications: "We are delighted to see the Garden Re-Leaf Cycle Challenge return for its second year. We had great response to the event in 2018, and hope to welcome even more riders across the finish line come March 22nd. The full 100-mile challenge is certainly not for the faint hearted and will require grit and endurance to get to the finish line.  This challenge will also be fun and is great way of doing something for yourself and achieving a personal goal, whilst raising money to bring the gift of a garden to children in hospices across the UK."
Those interested in taking on the Garden Re-Leaf Cycle can register by visiting https://www.greenfingerscharity.org.uk/gardenreleaf/register-for-the-cycle-challenge and completing a short form.
If you want to find out more about how to get involved in Greenfingers Garden Re-Leaf Day 2019, whether by putting on events in your garden centre, through sponsored solo activities or simply by donating – contact the Greenfingers office on 01494 674749 or email Linda@greenfngerscharity.org.uk.