A plant information company has launched an update to its services to enable plant webshops to be created based on its plant library.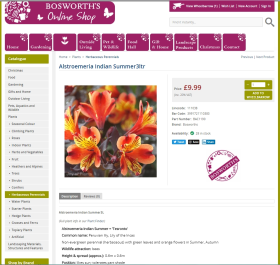 Joy of Plants has more than 14,500 plant images & data within its library and retailers can now quickly and simply create a webshop populated with the information.
Terri Jones, Managing Director of Joy of Plants in Twyford, explained: "During the COVID19 lockdown Garden Centres who were able to quickly switch to online sales and click&collect maintained their businesses. We've been helping retailers get set up on Shopify and Bluepark sites these past three months and we've now automated the procedure.
"Hub.joyofplants.com now supports Shopify and Bluepark and next we're adding support for WooCommerce. All three are easy-to-use webshop platforms.
"Customers simply set up their webshop, then upload their plant list to hub.joyofplants.com. Our software matches it against our plant database and then generates an import file the webshop can use to make our images and texts appear on their plant pages. It's really easy to do.
"Retailers can create a completely new super-professional plant-retailing website in just a few days or update an existing webshop within an hour."
Joy of Plants has more than 14,500 plants already in its library and will continue adding new plants from leading nurseries and growers. These will then be available for retailers' webshops. In July, the company also added new plants from the HTA's Virtual New Plant Awards.
Terri added: "It looks like we'll be facing local area lockdowns in the future for COVID19 second wave outbreaks, so it will be very important for retailers to be able to switch their webshops on and off as needed. Using Shopify, Bluepark or WooCommerce webshops they can easily do this."
Retailers can link plants in their webshop to the same plant in the Joy of Plants' Plant Finder, for sophisticated search, more images, plant care and recommendations for the retailers' choice of specific Care Products from leading suppliers.
Jonathan Biggs, Marketing Manager of Bosworth's Garden Centre, said: "We have been using Bluepark for a few years now and have found it to be a solid reliable eCommerce platform. The support side of things is excellent, being a UK based company, it is easy to reach the team should we need any advice or support, during our working hours.
"As a garden centre, we work with Joy of Plants who offer a fantastic solution with their Plant Finder to help find the right plant based on various criteria. Terri from Joy of Plants and Liam at Bluepark worked together to create a smooth integration that looks as though it were part of the 'out of the box' Bluepark product.
"From selecting a plant on the Joy of Plants' Plant Finder you can proceed to buy the plant, seamlessly linking in with Bluepark's stock file. We are extremely pleased with the end result and the ease of working with both companies to achieve the result."
View Bosworth Garden Centre's Bluepark webshop integrated with Joy of Plants' Plant Finder and Image & Text Library via www.bosworthsonline.co.uk.
Tim Sharples of Cedar Nursery Plants & Outdoor Living, explained: "Technology can be daunting but with the right partner you can do amazing things, we have toyed with the plant finder concept for decades, finally the Joy of Plants has made it achievable.
"Joy of Plants have been thorough, supportive and professional, providing a first-class product at an affordable price that is tailored to suit our plant list."
Piers Lavan, of Hortico, said: "I've used Joy of Plants for several years for bed cards and what I really needed was their database online. I'd seen Plant Finder and realised the solution was that on a webshop.
"A call to Terri, a bit of research into pre-packed web shops and a few days later I had hundreds of products available in Shopify to learn about, choose and pay for online. I then pick the orders and deliver them to customers old and new.
"This isn't just a solution for the short term, this is a long-term addition to how my business will operate in the future."
Joy of Plants has spent the past 25 years photographing and documenting plants to provide information in many forms including bed card printing, website plug-ins, touchscreen kiosks, and an image and text library for populating e-commerce sites.
For further details about Joy of Plants, please call 07717 532 323, visit www.joyofplants.com, follow the company on Twitter at @JoyofPlants or on LinkedIn via www.linkedin.com/company/joy-of-plants.