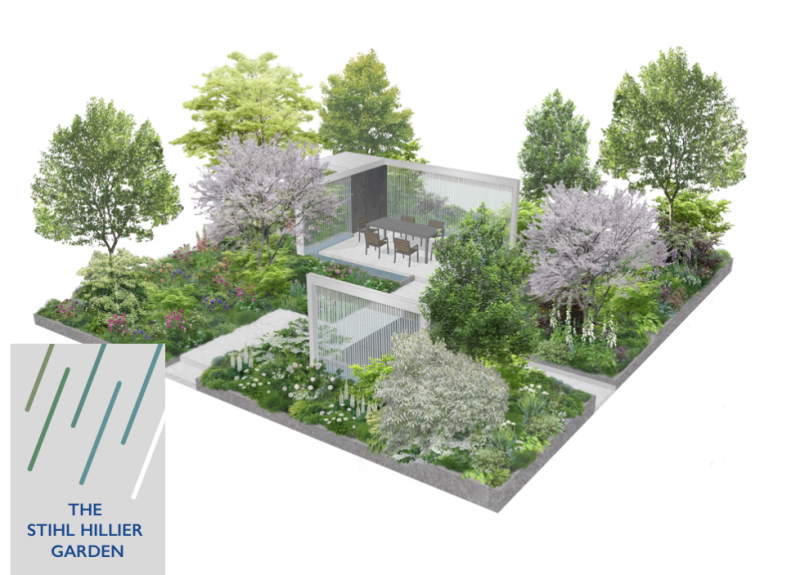 The nursery and garden centre business showcased the design for this year's famous flower show, with a new garden designer on board, new varieties, and upgraded systems in place to help make sure plants are at their best.
Hillier opened its doors to members of the press this week to give a behind-the-scenes look at operations, as it gears up for the RHS Chelsea Flower Show in May. The family-run business, which currently holds the Guinness World Record for the most consecutive Gold medals won at the show, is hoping its latest design will earn its 74th accolade.
The garden will be sponsored by the power tool manufacturer, Stihl for the second year running, following the success of gold-medal winning exhibit, 'Stihl Inspiration' by Hillier in 2018.
This year, Lilly Gomm has joined the Hillier team as designer, making her RHS Chelsea Flower Show design debut and she will be mentored by Chelsea's most decorated designer, Sarah Eberle who designed Hillier's garden last year. Ms Gomm's passion for gardening started at a young age and, having studied architecture at the University of Brighton prior to her move into horticulture, she combines a love of plants with an interest in materials and hard landscaping. She already has a string of medals under her belt, including a silver-gilt at RHS Hampton Court Flower Show 2018.
Ms Gomm said she feels "incredibly privileged" to be designing Hillier's Chelsea exhibit this year, particularly given the company's long and unbroken line of successes at 73 previous Chelsea shows.
She added that Hillier's "ethos towards encouraging future generations in the industry is admirable and something I am personally grateful for".
With a fresh approach, Ms Gomm has drawn upon a modern architectural form set against planting that contains esteemed Hillier classics. Serene white borders transition to vibrant pinks and oranges, moving to hues of purple and plant combinations are presented to provide inspiration for use in people's home gardens. Alongside with the planting, central to the design is an eye-catching vertical water feature.
Commenting on her design, Lilly added: "I wanted the vibrancy of the garden to change as you moved around it and having the water features definitely plays a part in this. Combining both traditional and contemporary can be a fine balance, but we have made sure the two are seamless. The presentation of a wide variety of Hillier hardy perennials, shrubs and trees, including brand new varieties and classics, is of course a vital part of this."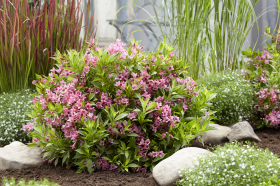 New plant introductions include Weigela 'Picobella Rosa', Isoplexis isabelliana 'Bella', and Cordyline 'Pink Star' – all of which have been sourced by the Hillier research and development teams and have undergone rigorous testing. Hillier believes we could see a resurgence of Weigela in UK gardens, as project manager Emma Fell explained: "There's a lot of Weigela breeding going on at the moment. It lost popularity a few years ago but could come back on trend, as new variations become available."
She continued: "Our variety, Picobella Rosa' is naturally compact and busy, and with gardens getting smaller, we felt we needed to adapt to that with plants that suit those spaces."
Chairman Robert Hillier added: "I think there is a real move back to woody, structured shrubs over herbaceous, particularly as more compact versions become available."
As a result, Ms Fell explained that she has added more than 100 "shrubby lines" to Hillier's range this year.
Lilly Gomm's overriding objective with her design for 'The Stihl Hillier Garden' is to create a contemporary canvas against which Hillier's world-class planting is the focus.
"It is all about the quality of the plants and trees and the actual planting," she said.  "The plants are the stars of the garden and I have created a backdrop with a palette of delicate, contemporary colours that allow them to stand out.  This is where contemporary meets tradition.  The water feature will encourage people to linger and look down to see the plants and then up to view the trees."
And, in order to ensure growing and preparing plants for the show is as smooth and efficient an operation as possible, new processes and technology have been put in place, including irrigation drip lines in the glass houses to speed up watering, and a new smart thermostat on the cold store, which sends text alerts if the temperature drops or increases by more than one degree. Head grower Jo Fell also explained that the team had also started photographing plants before they went in the cold store last year and would be doing the same again this year to compare and monitor the best time to hold blooms back for the best effect at the show. Some species – including summer-flowering Liliums – are also currently under lightboxes in the nursery's research and development centre in the hope they will be forced on enough to have them at the May show.
Ms Gomm concluded: "People have an expectation about the Hillier garden at Chelsea and we won't disappoint but, hopefully, they will appreciate the subtle changes I have made."